Introducing the people behind Chip SID Show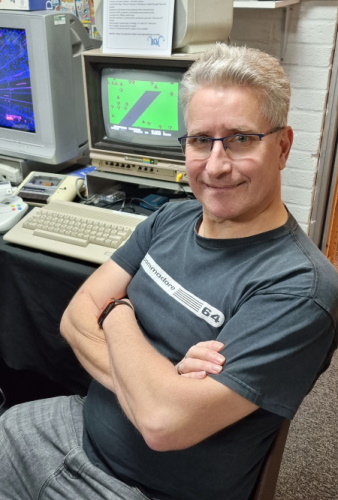 Max Hall of The Flat 3 Hackers
Max is the virtuoso behind the Chip SID Show. Max has been in the muso business for a long, long, long time.
He records all the tunes from the "arse end of a Commodore 64" in WAV files, then mixes them up into the current episode with his voice-overs as any proper DJ would do. He then creates the FLAC file version that he sends to Mike.
The tunes included each month are from anywhere in the last 40 years that the C64 has existed: there are still new tunes being written as there are people who weren't born in the same decade that Max (or Mike or Andy) discovered the SID chip.
Without Max, and his love for the SID chip, there wouldn't be a Chip SID Show!
---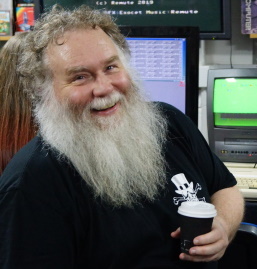 Mike Mee – Mug UK(tm)
Mike is a veteran Atari ST scener who was initially disappointed with the YM soundchip, until the likes of The B.I.G. Demo and The Amiga Demo arrived in the post one day. He used to sneak into an old software developer's building and "borrow" their phone line to raid Compunet to get the latest C64 demos to show them in the local computer shop (Gallery Software) when he lived in Wandsworth, London – long before it became all la-di-dah!
It's his monthly duty to get the FLAC file of the show from Max, do the MP3 conversion and update the playing list, using both Excel and PowerPoint to create the PDF that you can download. The latest releases aren't always on DeepSID, so quick scouts on CSDb or YouTube helps him find out the information needed. There are (he thinks) only 2 or 3 tunes that we don't know the composer of. Not bad for 50 episodes and counting!
Both of these audio files are then uploaded to various places including: this website and the two bulk upload areas on Mega.NZ and a shared Google drive. When Jackie has done a YouTube video, the link is added into the correct Episodes table. This way everyone can get their audio and visual fill.
He used to (ab)use his personal Dropbox and Box accounts to host the FLAC and MP3 files, but after a few warnings about him going over his DropBox bandwidth quota, he bit the bullet and bought enough hosting space for another 3 years' worth of Chip SID Shows. He also failed Maths at the first attempt at school, so his calculations might be a bit rough 🙂
---
Jackie Mason (LJxx)
Jackie does the YouTube videos. Being Max's other half, she's been a part of the Chip SID Show since the very beginning.
She takes the episode content and applies all kinds of image wizardry to it using Wondershare Filmora. These videos are then uploaded to Chip SID Show YouTube channel.
---
Andy Spencer (RCM)
Andy created and runs the Retro Computer Museum in Leicester. A veritable treasure trove of games from the early 1970s onwards. Open to the public most weekends and is usually the place where all four of us above catch up for a chinwag at one of the regular Legendary Gatherings events held there.
Andy does the CD & Tape albums for the episodes as and when he can – running a museum and working full time limits his free time.
---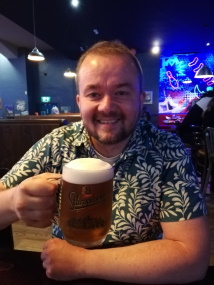 Richard Tappenden
Richard is the engine behind the Chip SID Show's Twitter account. For each new episode he sends out tweets to let fans know that the latest one is now available to download.
---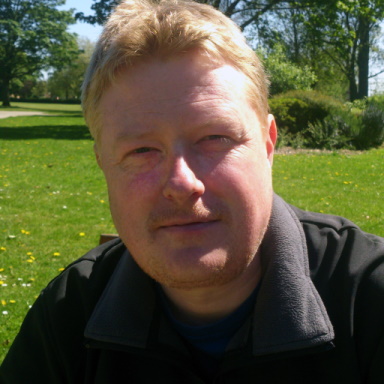 Paul designed the wonderful Chip SID Show logo that adorns every page on this website, and our Facebook and Twitter presences too. He's well known for his graphics as he did the artwork for the Commdore: The Inside Story book by David Pleasance.
---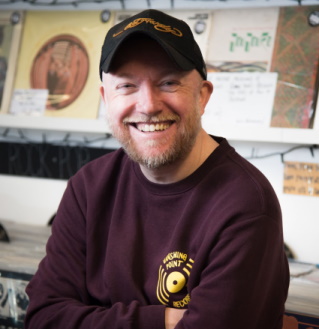 Corey Lavender of Vanishing Point Records
Corey owns and runs this record shop in Chesterfield, Derbyshire. Corey does his show every 3rd Wednesday on Radio Free Matlock.
Chesterfield is also where Max and Jackie hail from, so you can see where local webs are interwoven and how Max ended up starting the Chip SID Show on Radio Free Matlock.
---
The genial hosts of Max's Chip SID Show and the reason why this website had to be created after we'd (ab)used so many free cloud hosts. If RFM hadn't hosted Max's show, then this site would never have existed.